About the course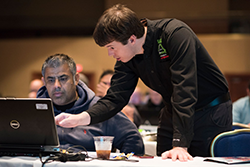 Imagine an attack surface spread throughout your organization, in the hands of every user, which moves from place to place regularly, stores highly sensitive and critical data, and sports numerous different wireless technologies all ripe for attack. You have it today: mobile devices. These devices are the biggest attack surface in most organizations today, yet these same organizations often don't have the skills needed to assess them.
NOW COVERING ANDROID MARSHMALLOW, iOS 10, APPLE WATCH AND ANDROID WEAR
Mobile devices are no longer a convenience technology: they are an essential tool carried or worn by users worldwide, often displacing conventional computers for everyday enterprise data needs. You can see this trend in corporations, hospitals, banks, schools, and retail stores throughout the world. Users rely on mobile devices more today than ever before - we know it, and the bad guys do too.
LEARN HOW TO PEN TEST THE BIGGEST ATTACK SURFACE IN YOUR ENTIRE ORGANIZATION
This course is designed to give you the skills you need to understand the security strengths and weaknesses in Apple iOS, Android, and wearable devices including Apple Watch and Android Wear. With these skills, you will evaluate the security weaknesses of built-in and third party applications. You'll learn how to bypass platform encryption, and how to manipulate Android apps to circumvent obfuscation techniques. You'll leverage automated and manual mobile application analysis tools to identify deficiencies in mobile app network traffic, file system storage, and inter-app communication channels. You'll safely work with mobile malware samples to understand the data exposure and access threats affecting Android and iOS devices, and you'll exploit lost or stolen devices to harvest sensitive mobile application data.
TAKE A DEEP DIVE INTO EVALUATING MOBILE APPS, OPERATING SYSTEMS, AND THEIR ASSOCIATED INFRASTRUCTURES